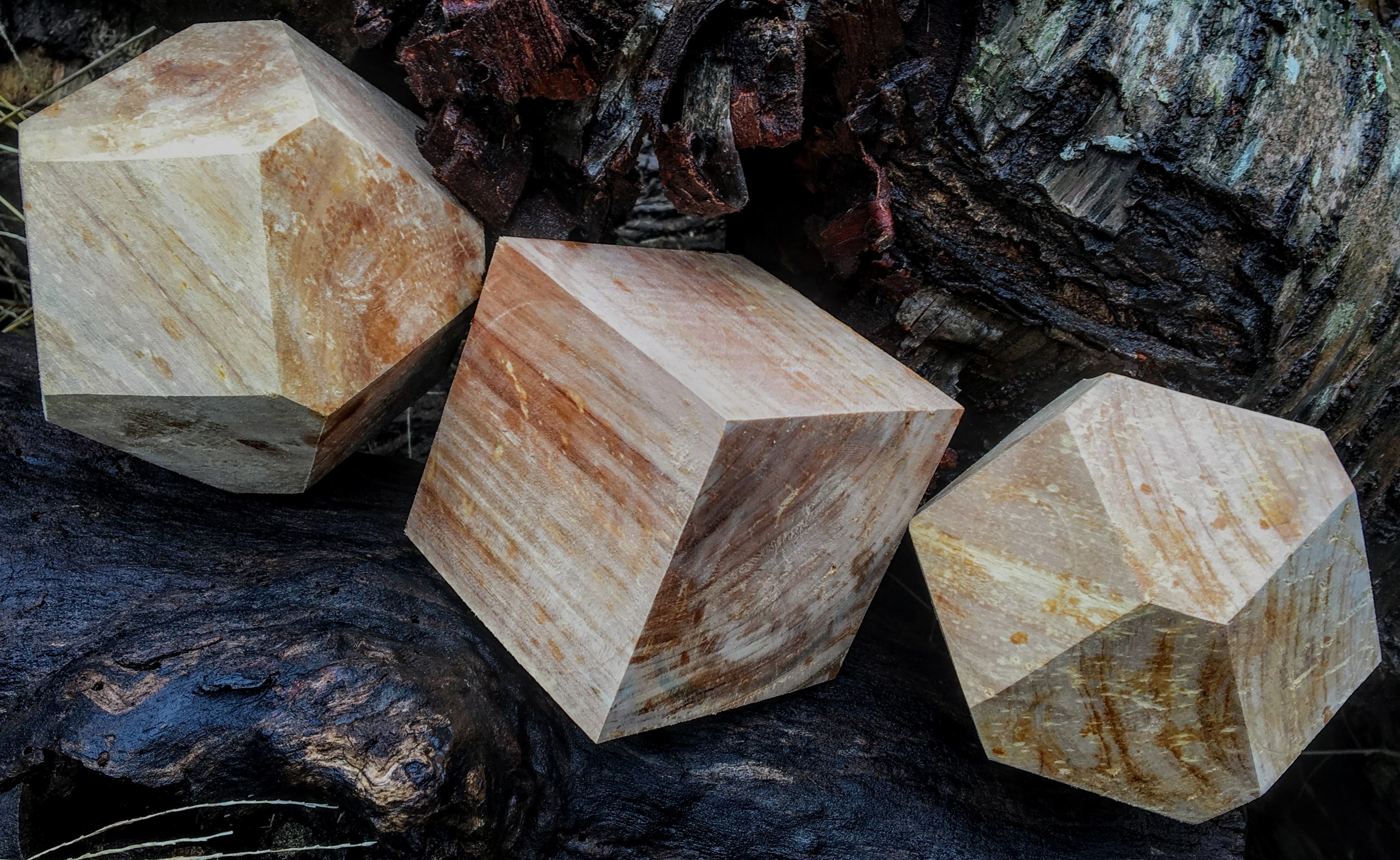 Turning cubes, truncated octahedra and other objects with flat surfaces are the topic for the Jan. 10 WGNC demonstration.
Member Lars Nyland will present in this first meeting of the year, which starts at the usual time of 6:45 pm at the NCSU Crafts Center and will include a gallery critique (2 items per member) at the break and club raffle at the end of the night. The library will also be available shortly before the meeting and at the break.
Why cubes on the lathe? "Size and accuracy," Lars writes. "You can make cubes (and other polyhedra) as big as your lathe's swing; try that on your table saw or band saw! These objects can be stand-alone creations, or be part of a bigger ensemble (e.g. totem pole). During the turning, I'll describe opportunities to hollow them and how to put a vase inside a cube."
Read more: Let's get cubicle with Lars Nyland at Jan. 10 meeting
Happy New Year to All! To start off 2019, what is more fitting than adding to your library. Please find below, introductions to three new books for your reading pleasure. These new additions will be available at the January 2019 meeting.
Come check them out.
Woodturning Design by Derek Hayes:
Artful inspiration. If you ever wondered how accomplished turners uncover the designs concealed within raw wood, you'll find the answers – and so much more in Woodturning Design. This handsome book offers a revealing look into the design process that will inspire, guide, and perhaps forever change the way you see the potential within a piece of wood.
Practical instruction and expert insights. Follow author Derek Hayes through the design process, which comes to life for you, step-by-step, in 300 full-color photos and hundreds of instructive illustrations. Begin developing your design sense with a clear understanding of basic principles and move on to explore proportion, pattern, and form.
Transform your own work. Rather than copying the work of others, this idea-filled book provides you with a myriad of possibilities for expressing your own creativity. From unique techniques for treating wood to adding color and decorative touches, you'll learn how to create your own one-of-a-kind turned pieces.
2019 Membership Dues
Renewal of your annual membership is $50 and due Jan. 1
Options for payment:
Pay at the monthly meeting with card, cash or check
Pay by mail with a check sent to:
Bob Reuss, WGNC Treasurer
3922 Lake Ferry Drive
Raleigh NC 27606
Our friends across the pond have compiled a list of 185 detailed turning projects you may want to check out.
Here's the full list with their categorization. As of January 2019, these were all publicly available links.