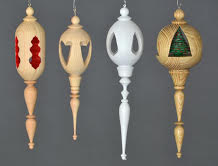 We are pleased to present John Lucas as our featured demonstrator for September 2016. John will show his unique methods for inside-out turning at our regular club meeting on September 8, 2016 at 6:30 PM (30 minutes earlier than usual).
John will also lead a day long class in making hand mirrors on Friday September 9, 2016 starting at 9:00 AM at the Raleigh Woodcraft Store.
Inside-out turning is a process where you glue 4 pieces together and turn the inside. These are cut apart reversed and glued back together. The outside can then be turned. This process leaves a silhouette or hole in all 4 sides. John has taken inside-out turning to a new level with several unique methods yielding some very interesting results. The club meeting is free to all members.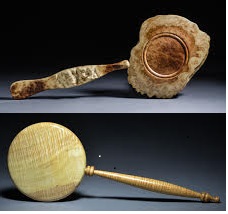 Hand mirrors are one of John Lucas' signature pieces. His mirrors have received national acclaim and are true works of art. In the full-day hands-on class, John will demonstrate how to turn a mirror with a handle.
The project includes both platter turning and spindle turning since the mirror body is just a small platter and the handle is a spindle. John is also a master of tool control and surface effects. In the demo he will discuss different ways to use the cutting edges of the tools as well as the use of the skew.
The registration fee for the hand mirror class is $100 ($105 online). The registration fee includes the materials to make one hand mirror.
Click here to pay for and reserve your spot, or see Steve Criscenzo at the meeting.
WGNC is happy to offer new T-Shirts promoting the club. These sand-colored cotton tees bear the club logo fully emblazoned across the back with a smaller version where a pocket might be. As turners, we decided it was best to forgo the shavings-collector.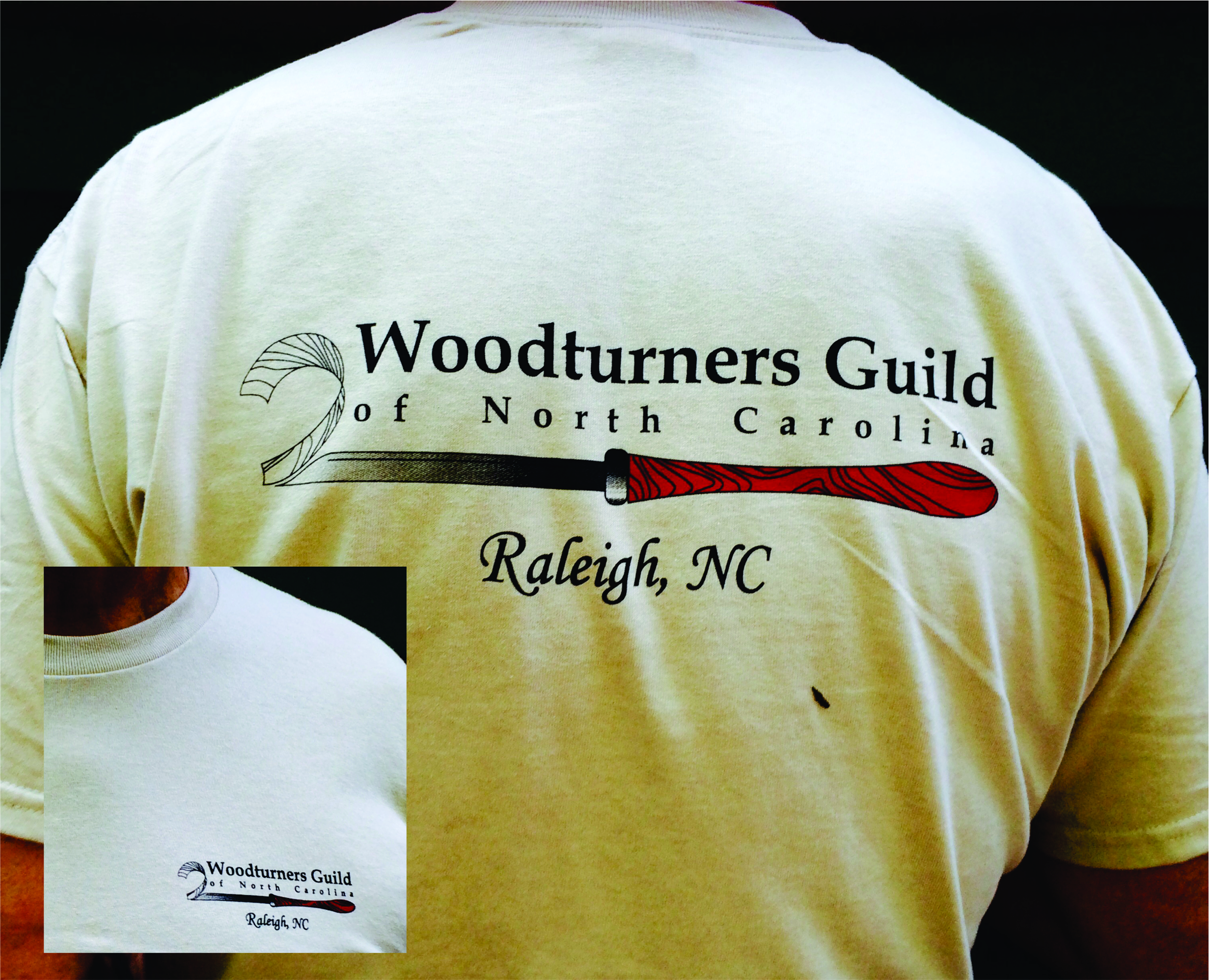 The shirts are available in Medium, Large, Extra Large and XXL. They are available to members for $12 each ($14 for the XXL). You can order them here and pick them up at the next meeting. Or you can just bring your cash, check or credit card to the meeting and make your purchase there.
The August event in Cary is upon us once again, but this year it has been extended to two days so we will be looking for volunteers to fill shifts for Aug. 27, 9am-6pm as well as Sunday Aug. 28, 12pm-5pm.
About half the slots are filled, but we still have openings at the critical beginning and end of each day.
Please visit our Signup.com account to pick your volunteer slots. We have a total of 16 slots of 2 hours each for demonstrators and greeters, during which you are welcome to bring, display and sell some of your work.
WGNC photographer Lars Nyland has assembled a lovely coffee-table book of ALL gallery images from the 2015 WGNC galleries.
The hard-cover, 80-page volume is printed on heavy stock and is 12 x 8.5 inches. The club is reselling it at our cost for $60 per copy.
While there are not names associated with each piece, the book credits members that are included in the collection of almost 200 images.
We had hoped to have six on hand at the May meeting but the printer had not finished them in time. We can also order more if there is further interest.
You can
pay for and reserve a copy for yourself here
and pick it up at the next club meeting. Once the first six are gone, we need to wait for another 10 orders to get the discounted price.